What a great idea for a thread, Bramble Girl!
Here's a photo of me at the last craft show I did back in November 2010. It's called the "Santa's Workshop" craft show (hence the festive antlers). I kept forgetting that I was wearing the antlers and wondered why little kids were giving me strange looks all day.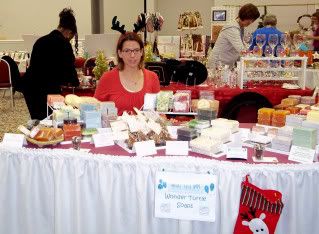 It's hard to see what I use for my display in that photo, so here's another one showing my shelves. I found these wire shelves and spice racks in the kitchen section of Bed, Bath, & Beyond. I like the height that they give.